Michael Kenna is a world-renowned Landscape photographer who exclusive works in Black and White film, using either a Hasselblad medium format camera or a Holga camera. He is still one of the few photographers who opt to develop his films and produce the prints himself. He controls the whole process which allows him the artistic freedom to achieve the exact tonal range and composition he is looking for. This is something that he learnt early on in his career when he worked as an assistant for Ruth Bernhard.
Kenna mainly photographs landscapes at night or dawn, using long exposures which can last up to 10 hours. In an interview with Anne Telford, which was written for Wraparound, Anne asks Kenna what drew him to photograph at night and at dawn.  Kenna responded in detail describing the different qualities of light that can be captured and their effects:
'I used to only photograph in the early morning… Morning light is often soft and diffused. It can reduce cluttered background to graduate layers of two dimensional tone…
…During the day, when most photographs are made, scenes are usually viewed from the vantage-point of a fixed single light source, the sun. At night the light can come from unusual and multiple sources. There can be deep shadows which act as catalysts for our imagination. There is often a sense of drama, a story about to be told, secrets revealed, actors about to enter onto the stage. The night has vast potential for creativity.'
Kenna M. (2003)
Some examples of his work are as follows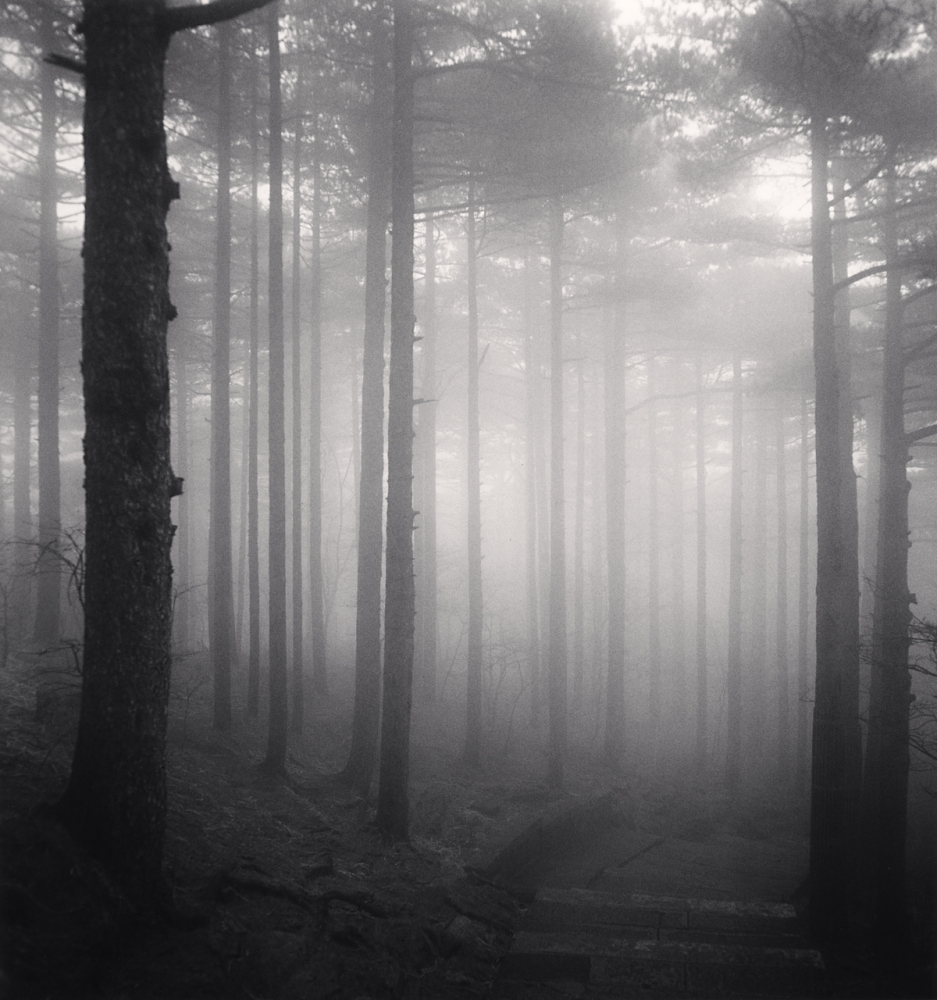 Fig. 1.
Huangshan Mountains, Study 26, Anhui, China. 2009
The photograph above is of a woodland in China shrouded in mist. There is the glimpse of a path leading down into the woods on the bottom right corner.
Kenna has captured a thin delicate light which has been diffused by the mist creating an enchanting scene that has a pensive/medatative quality.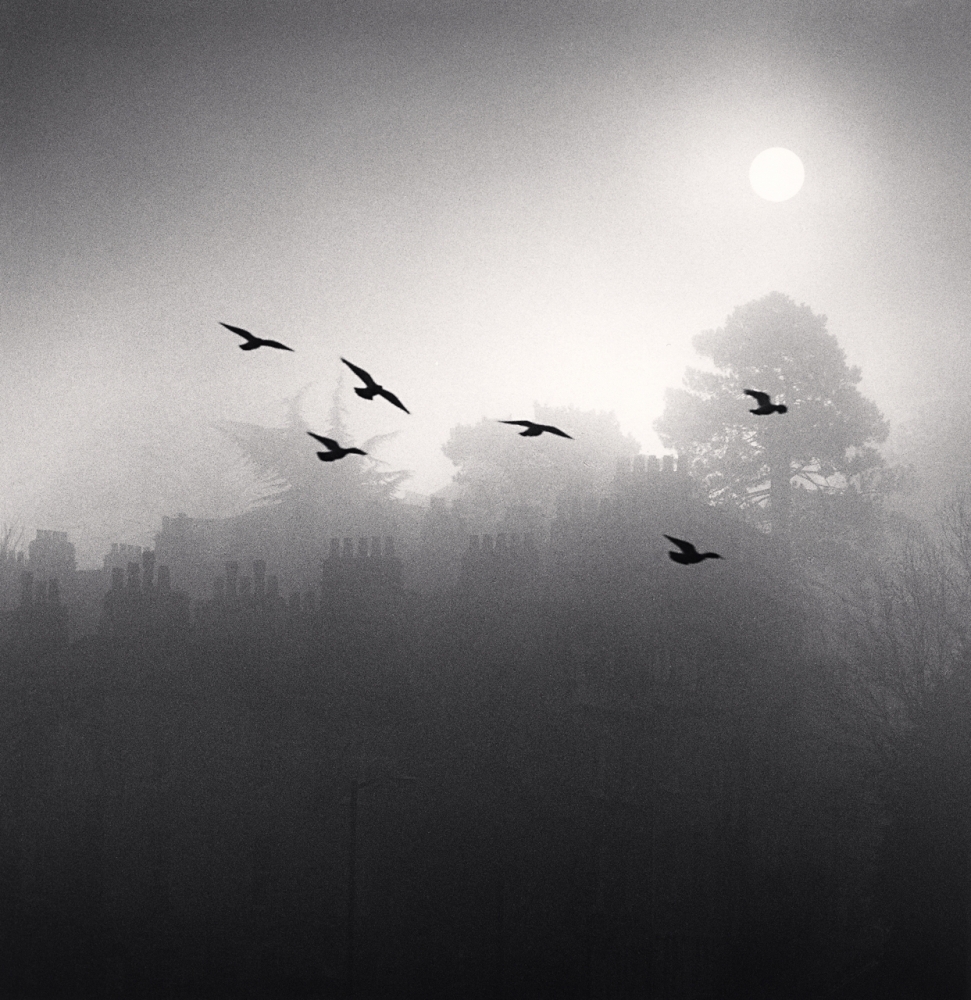 Fig. 2.
Six Flying Birds, Bath, Avon, England. 1987
This image is of a landscape in Bath obscured by the morning mist. There is a flock of birds flying across the frame from left to right.
There is a soft layered light to this image which is aided by the mist. The further away an object is the less light it is able to reflect back through the mist creating a graduated tone to the buildings and vegitation. The light is also filtered through the mist throwing an even light around the scene devoiding it from any shadows.
There is a simplicity to Kenna's work that seems effortless as he captures an ethereal light producing elegant and romantic images. It is almost as though he is writing an ode to the Landscape that stands before him.
Bibliography
Fig. 1.
Michael Kenna
(2009)
Huangshan Mountains, Study 26, Anhui, China. 2009
[Photograph]
https://www.michaelkenna.com/gallery.php?id=8
(Accessed 6 November 2019)
Fig. 2.
Michael Kenna
(1987)
Six Flying Birds, Bath, Avon, England. 1987
[Photograph]
https://www.michaelkenna.com/gallery.php?id=3
(Accessed 6 November 2019)
Citation
Kenna M
(2003)
'Alright in the Dark'
In: Wraparound
[Online]
At: https://www.michaelkenna.com/ivwrap.php
Accessed on: 6 November 2019